Still Life Chapter 3 Walkthrough - Part 3
Still Life 1 - Chapter 3
Still Life Chapter 3 concludes at Pat's House, but there is still that promise to make those special Christmas Cookies. The Walkthrough for the final return to Pat's House in Chapter 3 includes the solution to the Christmas Cookie puzzle.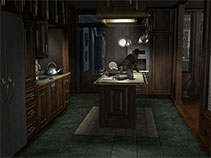 Pat & The Christmas Cookie Promise
When you return to Pat's House Victoria will automatically head inside. As soon as you're inside you'll enter into a conversation with Pat. He will remind you about the Christmas Cookies and, of course, Victoria will say that she has the time to make them right away.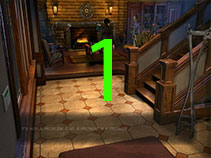 You'll have to keep your promise to make those cookies. Continue through the room to the kitchen door at the top of the screen. Note that on the right-hand wall, across from the pool table, is the Jacuzzi room.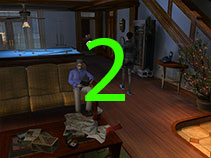 The Solution to the Christmas Cookie Puzzle
Once you are in the kitchen you'll need to activate the counter on the island in the center of the room.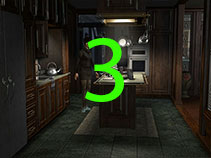 First you'll need to figure out what ingredients are needed to make the cookies. Then you'll use the equipment on the counter to prepare everything.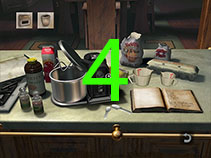 The Recipe Reads:

1 Cup Love
1/2 Generosity
2 Cups Commitment
1 Cup Sweetness
1/2 Cup Integrity
1 Tablespoon of Romance
1 Teaspoon of Sensuality
1 Common Sense
What It Means:

1 Cup Milk
1/2 Cup Butter
2 Cups Flour
1 Cup of Brown Sugar
1/2 Cup Molasses
1 Tablespoon of Ginger
1 Teaspoon of Cinnamon
1 Egg
Step 1: Place in the mixer bowl - 1/2 cup of butter (generosity), 1 cup of brown sugar (sweetness) and 1 cup of milk (love). Click the round button to mix.

Step 2: Add to the bowl - 2 cups of flour (commitment), 1 teaspoon of cinnamon (sensuality) and 1 tablespoon of ginger (romance). Click the round button to mix.

Step 3: Add to the bowl- 1 egg (intelligence) and 1/2 cup of molasses (integrity). Click the round button to mix.

Step 4: Click on the oven.

(Note: you can access the dining room by exiting the kitchen through the door on the right.)

Pat's House & The Christmas Cookie Puzzle Wrap-Up
Once you have successfully mixed up the cookie dough and put it in the oven, all that's left to do is to retire to bed. Head upstairs to Victoria's bedroom. Then click on the bed. Another cutscene will begin.

Our Still Life Walkthrough continues with: Still Life Chapter 4 Walkthrough - Part 1

Or you can find our video Still Life Chapter 3 Walkthrough - Part 3 on YouTube: